Bon appetit!
If you're looking to eat your way around the world in style, you've come to the right place. Takapuna is home to a wicked range of excellent quality international restaurants.
In celebration of Taste of Takapuna this month, let's take a quick world tour right here on the Shore!
Japan
Get ready for the freshest of fresh fish and premium sake – welcome to Tokyo! Well, Tokyo Bay in Takapuna. The restaurant's Chef Chikara Sato is one of the most skilled sushi chefs ever to have worked in New Zealand, and has the rare honour of being licensed to prepare the potentially deadly fugu blowfish. So it goes without saying the sushi and sashimi here are mind-blowingly good, but don't miss out on the other Japanese specialities like tempura, takoyaki, gyoza, and of course the teppan-yaki experience. The drinks list includes and extensive sake collection as well as special cocktails, Japanese beers, whiskies, shochu and umeshu as well as New Zealand beer and wine.
Italy
Like a renaissance painting by its namesake artist, Botticelli Restaurant & Wine Bar is a masterpiece. We're talking the whole deal: italian-style breads, antipasti, salads, fried calamari, a huge handmade pasta menu, Italian seafood and meat mains, genuine Italian pizzas (and a few new world flavours), and desserts including tiramisu. And that's before you even get to the wine list! There's a great selection of Kiwi vini, and of course great drops from Italy herself. It's also a swingin' live music venue. Mwah! Delicioso!
India
No culinary world tour would be complete without a visit to the subcontinent, and top Indian cuisine can be found at Karam Eatery & Bar. This is much more than any regular curry house; Karam is a quality dining experience. The food is a modern twist on the flavours of India made with fresh vegetables and free range meat source from local growers. The drinks menu features wine, beer, cocktails and whiskies, and it's all set in a modern establishment with contemporary music and a great atmosphere.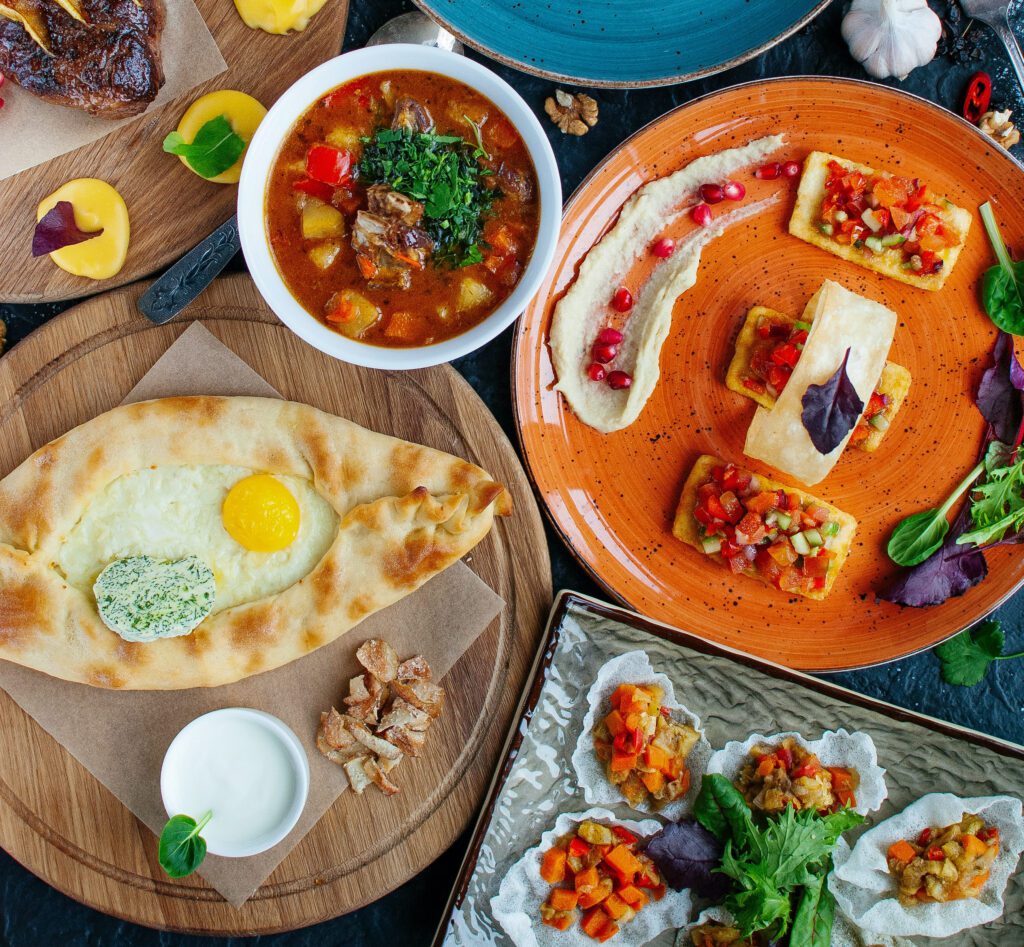 Louisiana, USA
Nothing says comfort quite like Southern food. You might not have known this about Franc's Bar & Diner, but it's our local haven of Cajun and southern comfort food. Whether it's fried chicken waffles you're after, a chicken sandwich, cornbread fritters, hot dogs, apple pie, or a good ol' fashioned mac 'n' cheese, Franc's is the place to kick back and enjoy some Southern hospitality.
The Philippines
Filipino cuisine has a fascinating history. The dozens of distinct cultures spread across the archipelago each bring their own flavours and styles – combine that with the influences of nearby trading partners Indonesia, Vietnam, China and Japan, as well as the colonial Spanish and American influences, and you've got a veritable melting pot of flavour. Our local Filipino melting pot in Takapuna is Nanam, offering a modern interpretation of the flavours of the Philippines. It's all about stunning presentation at Nanam, and every dish looks like a work of art – with the flavour to match!
The Mediterranean
Big hearty dishes, massive flavour, colourful vegetables, olive oil all over the show – this is what Mediterranean food is all about. With flavours of the Middle East, North Africa, Spain, Italy, Greece and more, Sam's Mediterranean Eatery is a powerhouse of some of the best cuisines in the world. The Mediterranean Chicken dish is one of Takapuna's best-kept secrets, and any traveller worth their salt should try the Greek platter, falafel wrap, sarma stuffed vine leaves, lentil soup and beef bolognese. Yes, we know that's a lot so you're going to have to make multiple orders. Wrap it all up with a house-made smashed baklava.
Asia (fusion)
Tok Tok Takapuna is a tour all in itself, drawing influences from the biggest dining destinations in Asia. From the spicy noodle dishes of Thailand to Vietnamese-style spring rolls, Chinese dumplings and Japanese-style carefully prepared meats – all with the special Tok Tok magic that brings flavours of the world together and makes them unique. And with an exotic cocktail list to top it all off, you'll feel like you're at a beachside resort.
You could also experience some of the fantastic Korean cuisine popping up all over Takapuna as well – check out some of the amazing new Korean places here, and suggestions of what to try!