Want to treat the special person in your life to an amazing date? Takapuna is the jewel in the crown of the North Shore, and we have curated the ultimate guide to make your date unforgettable, from sunrise to stargazing.
Sun's up
We hope your date is the early-rising type, because sunrise is the most magical time of day at Takapuna Beach!
Grab a steamy early-morning coffee from Takapuna Beach Cafe or Coffix Hurstmere and find a cosy spot to watch the sky transform into a kaleidoscope of colours.
Take a gentle beach stroll and let the ocean breeze invigorate your senses.
Breakfast like champions
Time to fuel up for your day. Head to Joe's Eatery for a scrumptious breakfast for two – we massively recommend the buckwheat ricotta pancakes with maple syrup, mascarpone, berries and brûlée banana.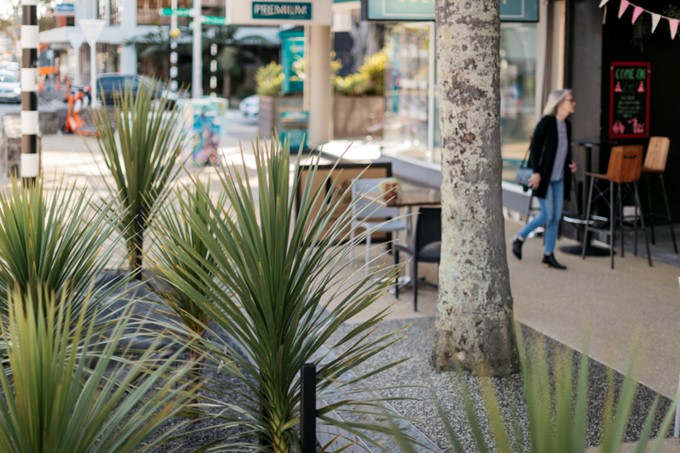 Retail therapy
Hurstmere Road is your retail therapy hub – fashion finds, quirky trinkets, and everything in between.
And for art lovers, Art by the Sea is a must-visit, with an awesome array of captivating masterpieces crafted by talented local artists.
Memorialise your big date day by taking home a piece of Takapuna creativity.
Relax with a massage
Treat your senses to a relaxing massage for two, and feel the stress melt away as expert hands work their magic, leaving you feeling completely relaxed and rejuvenated.
Indulge in a Balinese massage at Sala Thai Health Massage or a delicious aromatherapy massage at Escape Spa & Beauty Clinic.
There are far more wonderful pamper spots in Takapuna than we could list here – check out our health and beauty directory for all the best day spas.
Time to refuel
Now that you're fully zen-ed out, head to a cosy café or restaurant for a slow-paced lunch.
Draw it out, enjoy the vibe, have a glass of bubbles! Some of our favourite long lunch locations include Franc's Bar & Diner for a meal with a view, Tokyo Bay for the incredible sashimi and sake, and Gangnam Style for a full-on Korean BBQ experience.
Settle in
You've booked the room, right? It's check-in time at The Spencer Hotel.
Unpack your bags, catch your breath, chill out in your luxurious accommodation, and enjoy the sweeping views.
Enjoy a soothing soak in the spa pool before you head out for the evening.
Dine in style
It's almost compulsory to visit Regatta Bar & Eatery for pre-dinner drinks, and with the outstanding menu, you might end up here for the whole evening. But there's a whole amazing Takapuna dining scene bursting with restaurants offering diverse culinary delights, from international flavours to local specialities.
And what better way to cap off a fantastic meal than with a heavenly scoop (or two) of Duck Island Ice Cream? 
Show time
The night's still young, and the stage is set for an evening of entertainment. Head to the Bruce Mason Centre or PumpHouse Theatre, where the stage comes alive with thrilling performances.
From side-splitting comedies to soul-stirring theatrical performances, Takapuna's arts scene has got it going on.
We are all stars
Wind down with a finale fit for the stars. Head back to the bars for an Irish coffee, or grab a takeaway hot drink and snuggle up on the beach reserve for a view of the Milky Way over the Hauraki Gulf. As the day bids farewell, take a moment to soak it all in before you return to your hotel and hit the hay.