Itching to get out and eat? Have someone else do the dishes and take your family out to one of Takapuna's buzzing family-friendly, kid-friendly and tastylicious dining establishments. We've got cafes, restaurants, takeaways and desserts for everyone in your whānau.
We say it's family friendly, but really it's more like a family home. With fun, colourful décor and super-friendly team, it's kind of like visiting an eclectic aunt's house for a meal everyone's going to love. Kids will like that there's French toast, burgers and fish & chips on the menu, and the big kids can choose from everything from full breakfast to plant-based granola. Not to mention the colourful cakes and cabinet food.
I love Takapuna recommends
For the kids: French toast with berry compote
For the folks: Any of the rotating range of exotic salads
Burgers. They're the people's food. The great gob-stopper that'll have the kids occupied in blissful silence for just a few minutes. As you'd probably guess from the name, Burger Burger is a burger specialist, and you're guaranteed to find something for every fussy palate, whether it be a straight up beef & cheese burger, or a vegan masterpiece.
I love Takapuna recommends
For the kids: Mc Fly with fried chicken breast
For the folks: Lamb of the South with smashed Te Mana lamb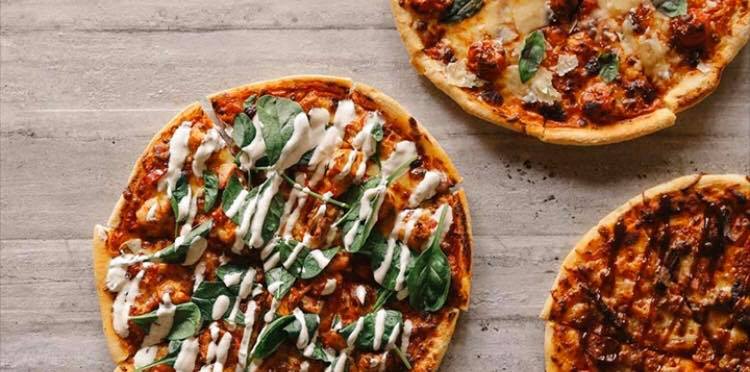 It's big, it's fun, it's colourful and it's got the best kid-pleasing name in town. This family friendly gastropub is a great environment for those seeking a bit of larger-than-life dining. There's a dedicated kids' menu as well as family favourites like pizzas, burgers and mac 'n' cheese bites. And there's a massive courtyard with plenty of space for running around,
I love Takapuna recommends
For the kids: Loaded fries with cheese and gravy
For the folks: 300G sirloin steak with herb butter
There's no denying that the ultimate family-friendly destination in Takapuna is the beach, and Franc's is just a couple of steps from the sand and sea. It's a summertime special that can be enjoyed all year round, with views to die for and a sand-and-sun vibe that can't be beat. Bring the kids for a feed, then burn it off on the beach.
I love Takapuna recommends
For the kids: Waffles with fruit and maple syrup
For the folks: Sticky pork belly dog with kimchi slaw
Yeah ok it's a sake bar, but hear us out: staff in panda hats. This Japanese restaurant is just a fun place to be – you can watch the chefs' mad skills as they cook your food, and you might even get a chance to ring the gong! Crowd-pleasing menu items include sushi, fried chicken and Japanese-style steak.
I love Takapuna recommends
For the kids: Chicken karaage with Japanese mayo
For the folks: Beef tataki with a squeeze of lemon
Watch your kids' eyes turn into small plates as the chef slices, dices, sizzles and serves delicious Japanese food right in front of you. Teppanyaki is always a meal and a show, and the Daikoku crew know how to turn it on. There's a kid's teppanyaki, and even a plate of Japanese-style fish & chips for the very young ones.
I love Takapuna recommends
For the kids: Kids' teppanyaki with veggies, meat and chop chop fried rice
For the folks: Ocean lunch with scallops and salmon
The big, friendly Mediterranean restaurant by the sea – especially perfect for evening dining. The kids' menu has options like pasta, chicken tenders and fish & chips, and there are plenty of tasty options on the grown-ups' menu for the more adventurous child.
I love Takapuna recommends
For the kids: Kids' pasta with pomodoro sauce
For the folks: Slow-cooked shoulder of lamb
Desserts! We'd be remiss not to include an indulgent sweet treat option, and KiwiYo is about the most fun you can have getting a bowl of frozen yoghurt. If you haven't tried it out yet… where have you been? Grab a suitably sized bowl, choose your flavour(s) of froyo, pile on as many toppings as you can from the selection of fruits, lollies, sprinkles and sauces, and pay by weight.
I love Takapuna recommends
For the kids: A massive stack of yoghurt and lollies
For the folks: A massive stack of yoghurt and lollies