Introducing the faces behind your favourite local businesses in Takapuna!
It's been a hard and unprecedented time for business and life across the board, so we thought we would introduce you to some of the wonderful people responsible for your favourite shops, eateries and businesses across Takapuna, so you can get to know a bit about them and their love for Takapuna and their customers!
If we want to keep Takapuna as the vibrant, fun place we all love – we need YOU to help, to SHOP LOCAL and support our local businesses now more than ever.
Jam Café: Staying on point in hospitality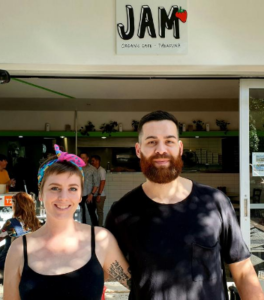 Judah McDonald and Tamara Tait are the team from popular Jam Café on Hurstmere Green. Tamara is the manager and Judah is the Head Chef – they make a great team and complement each other in different sides of the hospitality business.
They've both been working at Jam for some time – Tamara since 2013 and Judah for five years – and are well-known to Jam's many regular customers.
They're real enthusiasts for being part of the local community. "I think most managers and business owners in Takapuna will agree that the great part about Takapuna is watching locals come together and build friendships," says Tamara. "Working at Jam we can socialise with our customers and we get to know them on a first name basis. We are incredibly lucky to have such a great space directly in front of the café; Hurstmere Green is the perfect area for families to relax, play and catch up with friends and meet locals."
Outside their busy café hours, Judah and Tamara share a number of interests. Tamara's not-so-secret hobby is her huge collection of house plants, "all the usual suspects and more," she says, including hundreds of succulents she has been propagating for years. Judah shares her green thumb hobby and also loves working on the vege garden and growing anything from cuttings or leftovers.
While they both love cooking at home, Tamara says nothing can beat their favourite takeaway – Dan Dan noodles from Basu Lounge in Takapuna, perhaps enjoyed with one of Judah's home brews (He's working on making the perfect Hazy IPA), or a good New Zealand craft beer.
He also has a passion for "anything Game of Thrones or Lord of the Rings", and is currently reading The Witcher series and playing the game.
Together they also share an interest in op-shopping and love hunting down quirky and retro treasures and furniture.
Through Jam, they are proud supporters of charities such a Breast Cancer Foundation and Shave for a Cure for which they raised almost $5000 for in 2018.
Above all, however, they aim to make sure that the "integrity of Jam's evolution stays on point," says Tamara. "Good food, good coffee, genuine people and always remaining true to ourselves through any change that may come." Covid-19 may well have been a test of that, but as we've moved down the levels, Jam is certainly back "on point", serving the same delicious coffee and food that locals have come to expect.
They love: socialising with customers and shopping in Takapuna
We love: the vibe, the food and coffee at Jam, and Jam's great location in Hurstmere Green

Colliers International: Passionate high achiever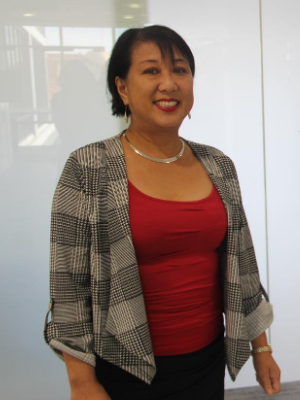 Janet Marshall, a director at Colliers International, was originally from the United Kingdom, but is now based in Takapuna and is a firm advocate of the Takapuna lifestyle. "Takapuna has to be the best place to work. It is North Shore's city on the beach, vibrant, has a great community and is the ultimate lifestyle location."
Janet moved to New Zealand when her family was young "to enjoy the stunning lifestyle". They have a Coatesville lifestyle block where they "take care of our sheep, chickens, dogs, bees, fruit trees and vegetables; it is our re-charge and therapy after a long week – city dwellers trying to be farmers".
With a military background and having worked with the Ministry of Defence White Hall in the UK, a shift to real estate might not have been thought a logical career step. However, she has worked with much success at Colliers International Takapuna since 2002 and is proud of her achievements over the years – much of which she credits to her military background. She was awarded the Women in Property Award by the Property Council in 2019, and was the first female to hold a Colliers directorship in Auckland. "Winning the 2013 North Shore Best Property Marketer award was one of my career highlights," she adds, "as well as being part of the North Harbour Board and now Takapuna Beach Business Association. I am known for dedicating myself, getting the job done well with integrity and honesty."
"My words of advice are to think positively, retain a sense of humour, and always make time for others," she says. "My son is in the Royal Marines in the UK, so I appreciate time with my family even more. Take time out with your family, give your best in whatever you do and appreciate what life has to offer and show you."
Janet is also an achiever on a personal level: she was the first civilian female in the UK to tandem free dive skydive and to jump out of a Hughes 500 military helicopter strapped to an SAS soldier. "Wow, was that exhilarating," she recalls. "Perhaps one day I would like to carry on with trying to get my PPL (Private Pilot's Licence)."
Not that everything she tries turns to gold: she recently bought a piano to learn to play but "quickly realised I can read music and not play, so we now have a beautiful piano". Perhaps her skill is also in knowing her limitations – and always having new goals to aspire to. "I am a confusion," she admits laughingly. "People often laugh because I look Asian, come from the UK with a posh English accent, and read and write French and Russian. I would love to speak Chinese…"
She loves: spending time with family and the feeling of community in Takapuna
We love: Janet's unique background, range of experience and dedication to a job well done.
Studio Pilates: High energy commitment to Pilates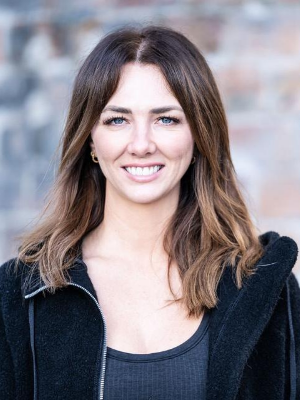 It was a big step, opening the first New Zealand Studio Pilates studio. But Claire Bell has no regrets. "I fondly remember walking into the building site and knowing instinctively that 'THIS IS IT! This will be my new Pilates studio!' I fell in love with the vision of the studio in that space, of the idea of sunlight streaming through large glass windows at reception. That was the defining moment when we decided to open our Takapuna studio and making this happen after years of preparation, following a move away from a career in finance. EVERYTHING changed. Since then, as a family we have moved into our Devonport home, we got married, added a puppy to our family (with Willow the cat) and are soon to be adding our first baby to the mix – all of this since we've moved to the area!"
More changes, in the form of their baby, are afoot, but Claire's enthusiasm for her studio and its Takapuna location have not dimmed since that first sighting. She remains motivated by her relationships with the Studio Pilates team, and the members who attend classes. "I love to hear about the friendships built between our team and members," she enthuses.
"It is an incredible feeling when members have that WOW moment and recognise that Studio Pilates is their long-lost addiction! It really does become a bit of an addiction."
Unlike many Pilates studios, Studio Pilates combines video technology with highly trained instructors, providing high energy, inspiring 40 minute classes that challenge members mentally and physically at every session.
"I love running the business in Takapuna because of the local community. Our members, as well as other local businesses are a big part of what make Takapuna the thriving hub that it is."
She loves: Community, Location, Lifestyle!
We love: Studio Pilates, friendships and fitness