Thanks to Nanam for sharing with us this delicious taste of the Phillipines, to recreate in our own homes!
Pan fried Kingfish: in Spicy soybean glaze with sautéed Kale and leek and mint
GLAZE:
25g peeled garlic
25g Vegetable oil
25g whole grain mustard
Pinch of salt
125g soy bean paste
50ml White vinegar
50g Brown sugar
1pc of birds eye chilli
Method – glaze:
Blend everything together into a smooth paste.
Pour in a small sauce pan and simmer slowly for 15 mins, stirring every 5 minutes to prevent burning. Set aside to cool down.
Sauteed Kale and Leek
1Tbsp Olive oil
100 g Cavalo nero (Chopped thinly)
100g Leek (Chopped thinly)
5g Mint (chopped finely)
Lemon (half)
10g brown sugar
1tsp flaky salt
Method – vegetables:
In a hot skillet, sautee Cavalo nero and Leek on medium heat for about 3 minutes making sure to keep stirring to properly color the leek
Add the brown sugar, flaky salt and lemon juice to season and finish with Mint.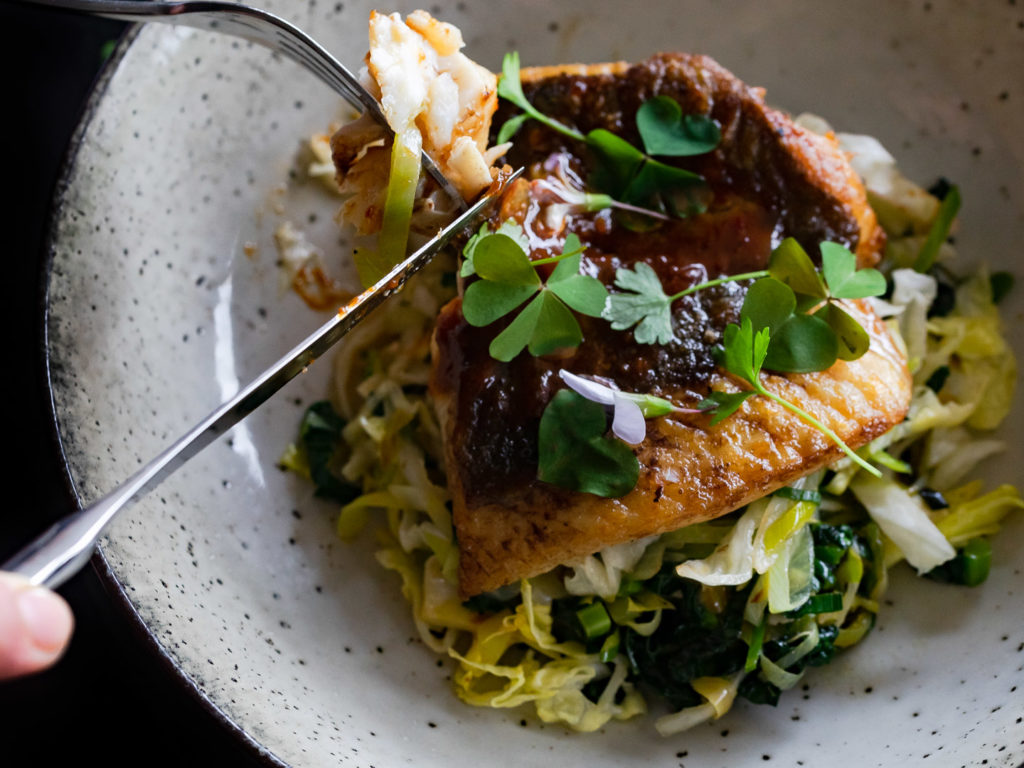 Cooking & Assembly
Pat dry the king fish fillets skin, then season with flaky salt.
Pan fry the fish skin side down on a medium heat for about 2 minutes (depending on the size of the fillets)
Finish in the oven till well cooked through.
Glaze fish with the spicy soybean glaze and serve with the sautéed Kale and leek.
Serve with steamed rice, and enjoy!