We've arrived at the end of October, and the end of Taste of Takapuna 2023. Hopefully you got out and tried some of the incredible food Takapuna has to offer!
If you'd like to take some of the flavour home with you, we've got three top recipes from some of our favourite North Shore restaurants to try at home. Enjoy!
Tuna "Sinuglaw" Ceviche – Nanam
Nanam is top quality cuisine, in modern Filipino style. Fresh and zesty flavours galore. Executive Chef Jess Granada shares the recipe for her tasty flash-grilled tuna ceviche.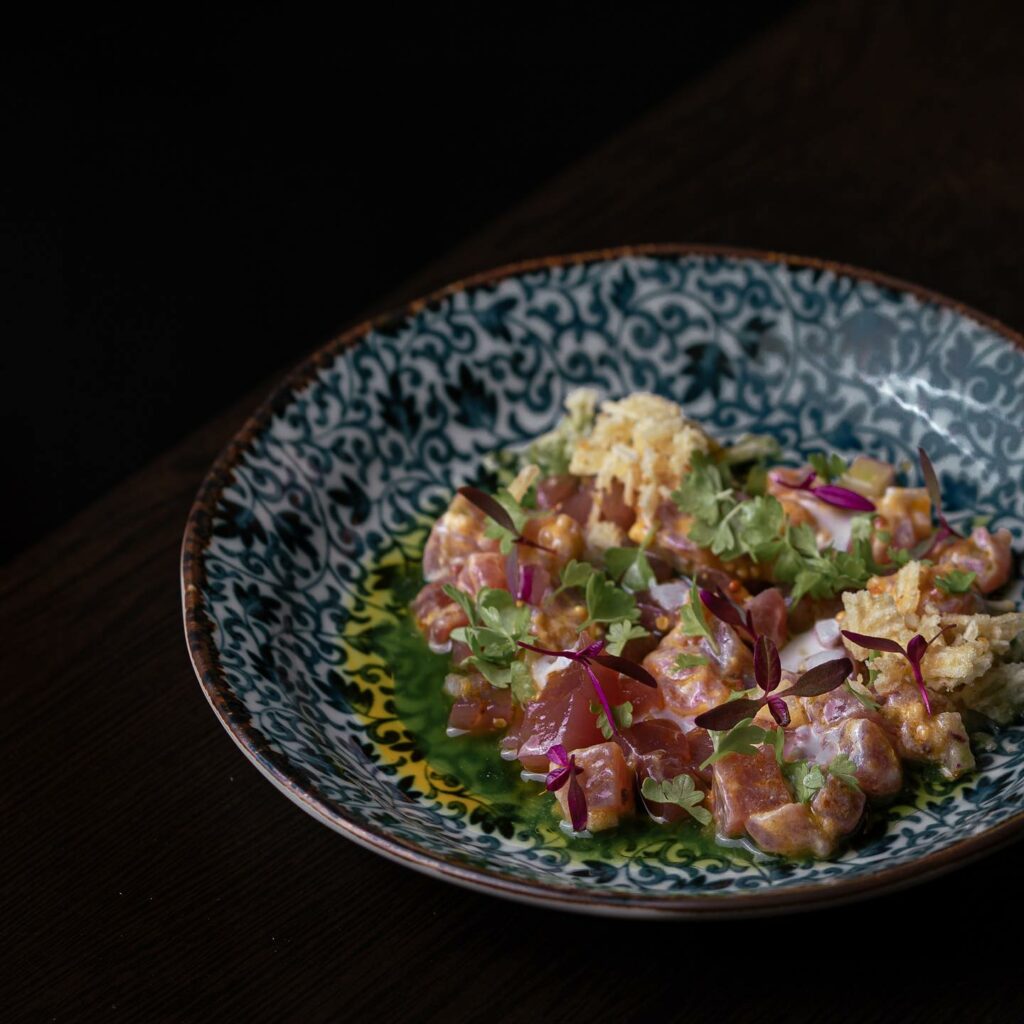 Ingredients:
Salt flakes (Maldon is preferred), to taste
Olive oil
200g tuna
50ml sherry vinegar
50ml coconut cream
50g soft brown sugar
½ a lime or 2 calamansi (Filipino) limes
½ a chilli of your choice (I'd go with Bird's Eye chilli, and you can put more in if desired)
50g shallots
2 Tbsp mustard seeds
8 cm of peeled cucumber
Method:
Rub salt and oil onto the whole tuna and grill it for 15 -20 seconds until you get a nice char outside, without cooking it through.
Chop the tuna into cubes and chucks. I prefer mine to be half an inch or smaller to serve it immediately.
Mix the sherry vinegar, coconut cream, brown sugar, lime, chilli, shallots, and mustard seeds in a bowl for the dressing.
Toss the dressing slowly, and gently add salt to taste. Let it sit for 5 minutes.
Cut the cucumber into cubes and put it on top of the tuna to cut through the spicy and sour notes of the ceviche.
Serve it with crackers or some crunchy iceberg lettuce.
Simple Carbonara – Botticelli
Botticelli is famous for its incredible Italian flavours paired with live music and good times. This simple yet yummy Carbonara recipe is one way to take a little bit of the party home.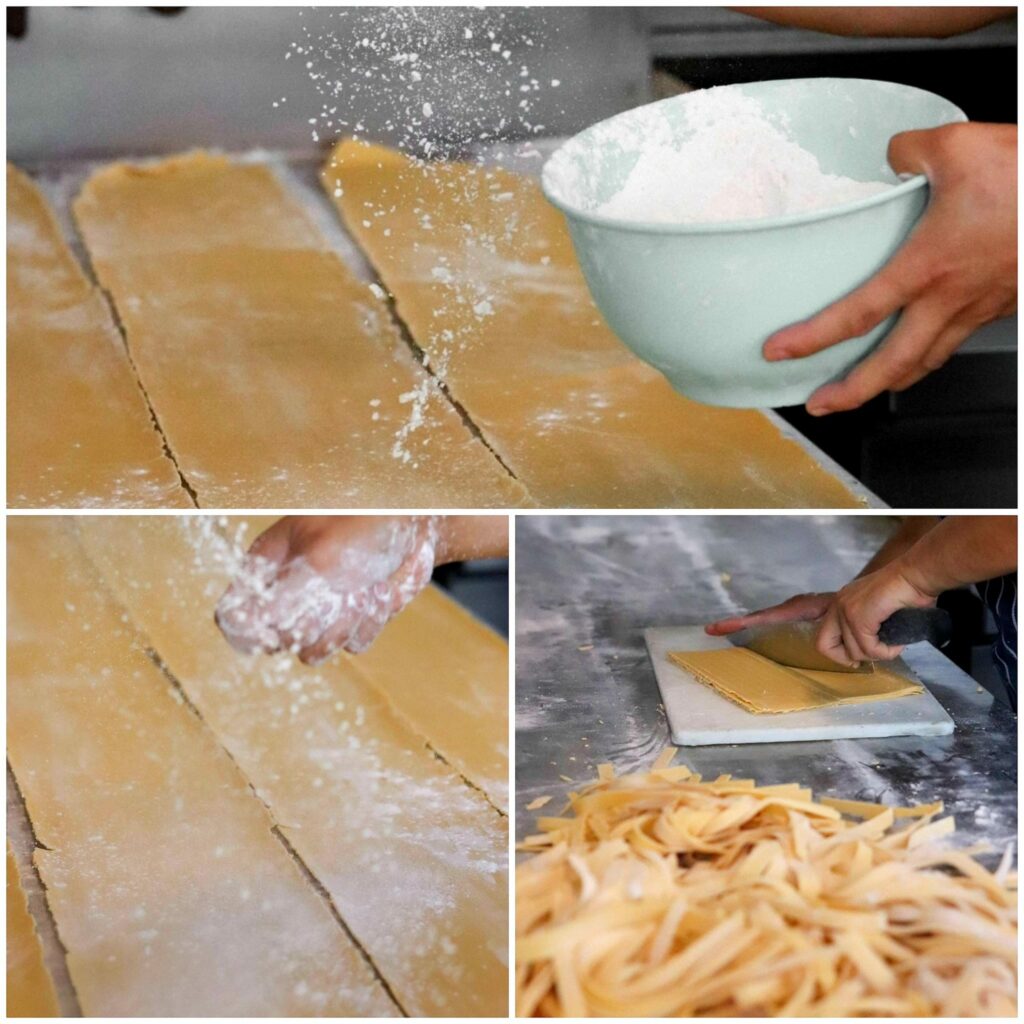 Ingredients:
100g streaky bacon, chopped
½ an onion, diced
1 tsp garlic
¼ cup white wine
2 cups cream
150 grams spaghetti pasta
2 egg yolks
½ cup of grated parmesan cheese
Parsley (a decent bunch)
Method:
Add the streaky bacon and diced onion to a cold pan. Turn on the heat and lightly fry without letting the ingredients brown.
Add the garlic and fry for about 20 to 30 seconds before adding the white wine and the cream. Let this cook down and reduce to a nice thickness.
Boil the spaghetti in a separate pot with a teaspoon of oil and a pinch of salt.
Remove the carbonara sauce from the heat, and add the spaghetti, half the grated Parmesan, parsley, and egg yolk. Mix quickly with tongs before the egg yolk cooks to achieve a perfect consistency.
Serve in bowls, garnished with parsley and the remaining grated Parmesan.
Seafood & Vegetable Korean Pancake – Bando
Bando is the big new thing on the Takapuna Korean scene. Music, bar, and traditional Korean fast food including the famous Korean fried chicken.
This recipe is for a flavorful and wholesome savoury pancake to serve two.
Ingredients:
Dipping sauce
2 Tbsp soy sauce
1 Tbsp rice vinegar (or alternative)
Pancake
½ cup flour
1 Tbsp potato starch
½ tsp salt
¾ cup water
4 Tbsp vegetable oil
8 to 10 spring onions (roots trimmed off)
½ cup mixed seafood (can be skipped for vegetarian option)
Method:
Mix the sauce ingredients together and set aside.
Combine flour, potato starch, salt and water in a large bowl. Mix well until batter is smooth.
For crunchy spring onions, cut them into thirds. For a smoother texture, instead chop them thinly.
Put the spring onions into the batter and mix them well.
Drop your mix of seafoods into the batter.
Add 2 Tbsp of oil into non-stick pan on medium heat and swirl to cover the bottom of the pan.
Gently pour your batter into the pan (not too thick).
Cook for about 5 minutes until the bottom is light brown and crispy.
Flip the pancake using a large spatula (or if you've got the skills, flick the pan like you do with your pancakes).
Add 2 Tbsp of oil to the sides of the pancake, lift the pancake and tilt the pan so the oil goes under.
Cook for 3 minutes until both sides are light brown.
Flip once again and cook for for 1 minute to make sure the top and bottom are well cooked.
Place on a large plate and enjoy with the dipping sauce.