Head Chef : Chikara Sato
Tokyo Bay
Main Beach, The Strand, Takapuna Beach
Chikara (Chika) Sato of Tokyo, heads the kitchen at Tokyo Bay Takapuna. He is regarded as one of the highest skilled Japanese chefs to have worked in New Zealand.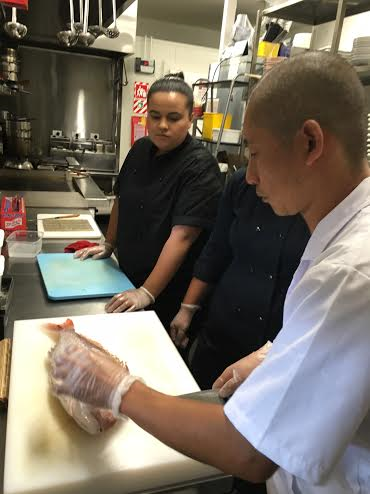 Chikara is a specialist in the art of sushi and seafood.
He has come from famous Tokyo restaurants 'Seryna' in Shinjuko, www.seryna.co.jp specialising in Kobe beef & shabu-shabu.
Chikara was trained by the masters at Kyubey Restaurant in Ginza, one of Tokyo's most famous sushi establishments. Customers at this restaurant will queue before opening in the morning to get a seat at the counter to watch the master chef's showing their skills.
At Tokyo Bay we prepare modern Japanese cuisine, not Japanese fusion. Many dishes are seen in the modern restaurants of Tokyo.
Chika Sato is a licensed blowfish, 'Fugu' chef. Even though these skills are not required locally, only the highest skilled Japanese chefs will hold such a license. He has the ability to fillet the deadly, Japanese delicacy known as Fugu.
Chikara welcomes the new challenges of running the kitchen at Tokyo Bay, sourcing our finest local produce and seafood.
Owner and host, Sarasa Shimura has introduced him to iki-jime, line caught seafood & snapper, pacific fresh tuna, NZ Chinook Salmon and many other well-handled fresh local produce available from our land and waters.
Recently Tokyo Bay Japanese Restaurant was awarded TripAdvisor's Travellers' Choice Award 2021 and they rank us the top Japanese Restaurant Japanese Restaurant in greater Auckland.
Tokyo Bay is situated seaside, Takapuna Beach. You can dine and watch the cruise liners sale out after a day in Auckland. We are open seven days, with a casual lunch menu featuring light bites to a range of bento box styled selections, and from 5pm a more extensive evening menu featuring modern Japanese cuisine. Bookings are essential.