Q&A: Haydan Hawkins, AKA Sammy The Wedding Singer's bassist
Last night was opening night of The Wedding Singer at the Bruce Mason Centre, and we celebrated by catching up with cast member Haydan Hawkins.
Tell us about yourself in two sentences.
"I have been acting and singing professionally for over 10 years now, I met my now wife on this show but she is no longer playing my love interest because she is pregnant with our first child. I absolutely love New Zealand and I want any excuse to come back and play here again."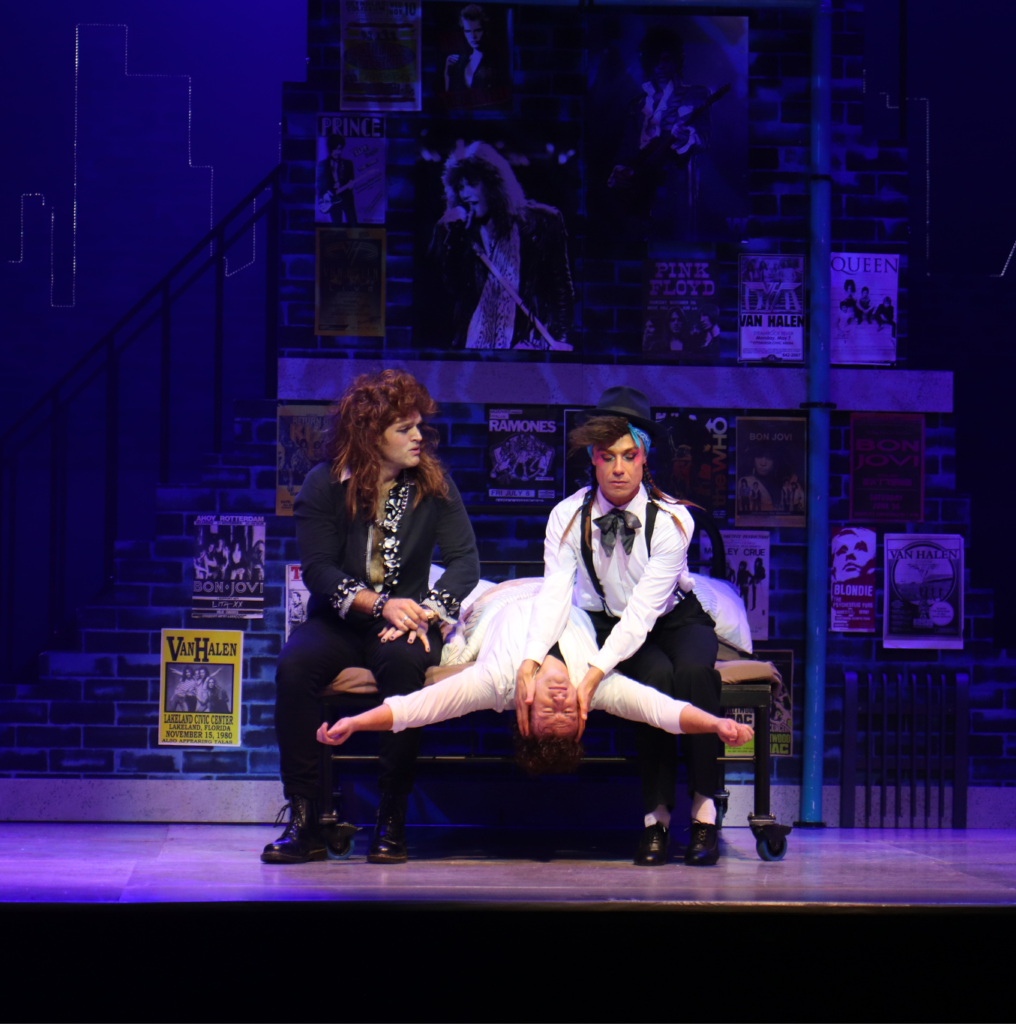 Who do you play in The Wedding Singer?
"I play Sammy, who is the bassist in the band and Robbie's best friend."
What's your part's background?
"He grew up in New Jersey and is a big fan of Bon Jovi. I have the wig to prove it. He has his two band members, including George who is heavily influenced by all things Boy George. He wants to be a famous rockstar and is a lover. He is still very much in love with his on-again off-again squeeze Holly. Big hair, don't care!"
What makes it a fun part to play?
"The hair is a great excuse and licence to go full '80s rock star, the bigger the better. Big and bold and masculine, but he is a big softie too, so it's nice to explore that character development in the show. One of the greatest gifts from playing Sammy in this show has been meeting my real life love Nadia, who originated the role of Holly in Australia."
That's incredibly sweet and cool. What do you do to get into character?
"I usually listen to a lot of '80s rock 'n' roll and watch a lot of YouTube videos of old-school rock stars in that era. It's all part of the journey to flesh out the character as best as I can for the stage. We also have a blast with the boys in the band on stage and off stage."
Have you got a favourite song from the show?
"Well that would have to be my own song which is called "Single". It explores the frustration of men in a very base and primal way, with the comedy coming through it because it's very obvious Sammy needs love, so this song is a bit of a facade. Sammy is also obsessed with Michael Jackson in the movie, so I threw in a moonwalk for good value!"
What can audiences expect to see at the Auckland show?
"Come prepared to laugh and escape to another era with the music, the dancing, the costumes, and get lost with us in a high-energy and powerful cult classic."
What's the #1 reason we should come along and see it?
"As I said above, but definitely to see my hair! It has its own dressing room, and we promise it to be a night that we all need after the headache of Corona."
The Wedding Singer is on at The Bruce Mason Centre until Sunday 17 July. Check out the show's website and get tickets here while you still can!